OPEN HEAVENS DAILY DEVOTION MONDAY 16th NOVEMBER 2020.
THEME:VICTORY THROUGH PRAISE.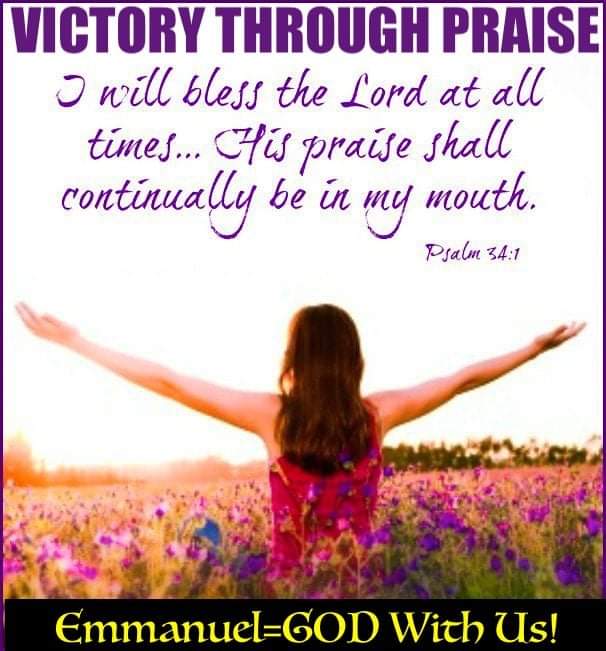 MEMORY VERSE:
"I will bless the LORD at all times: His praise shall continually be in my mouth."Psalm 34:1
BIBLE READING: 2 Chronicles 20:17-22
17• Ye shall not need to fight in this battle: set yourselves, stand ye still, and see The Salvation of The LORD with you, O Judah and Jerusalem: fear not, nor be dismayed; to morrow go out against them: for The LORD will be with you.
18• And Jehoshaphat bowed his head with his face to the ground: and all Judah and the inhabitants of Jerusalem fell before The LORD, worshipping The LORD.
19• And the Levites, of the children of the Kohathites, and of the children of the Korhites, stood up to praise the LORD God of Israel with a loud voice on high.
20• And they rose early in the morning, and went forth into the wilderness of Tekoa: and as they went forth, Jehoshaphat stood and said, Hear me, O Judah, and ye inhabitants of Jerusalem; Believe in The LORD your God, so shall ye be established; believe his prophets, so shall ye prosper.
21• And when he had consulted with the people, he appointed singers unto The LORD, and that should praise the beauty of holiness, as they went out before the army, and to say, Praise The LORD; for His Mercy endureth for ever.
22• And when they began to sing and to praise, The LORD set ambushments against the children of Ammon, Moab, and mount Seir, which were come against Judah; and they were smitten.
MESSAGE:
A. Living a life of praise is not only the most enjoyable way to live.
1• It's also one of the most powerful ways to change your life.
2• Praise isn't what actually makes the miracle happen.
3• "And when they began to sing and to praise, The LORD set ambushments against the children of Ammon, Moab, and mount Seir, which were come against Judah; and they were smitten." 2 Chronicles 20:22
4• From the passage above, we see that it was when they began to sing and praise that The Lord moved.
5• If you are waiting for God to do a miracle before you start praising Him, you have got it all wrong.
6• It is when you praise Him that the miracle will happen.
7• It is by faith that you get miracles; the evidence that you truly have faith in God is in your praising Him even before the miracle happens.
B. Can you praise God in the face of danger?
1• Can you praise Him when all seems not to be well and you are feeling down?
2• You see, that is exactly the best time to praise Him.
3• It is when you praise Him in that situation that He will minister strength to you.
4• Staying down and closing your mouth is exactly what the devil needs for him to keep you in that situation. 5• He knows that the moment you start praising God, the game has changed in your favour.
6• Since God inhabits the praises of His people (Psalm 22:3), your praise will bring Him into that situation and the devil will be defeated.
7• Psalms 22:3 "But you are holy, O you that inhabit the praises of Israel."
C. My beloved, it doesn't matter how you feel at any point in time, don't let the devil take the praise of God away from your lips.
1• When the devil comes with his trouble, don't face him; he is too small to get your attention.
2• Face the living God and give Him the best praise.
3• Go to a quiet place and shout the praise of God loud and clear so that the devil will tremble.
4• What you will realize is that, just as God did for the people of Judah, He will move on your behalf when you begin to sing and praise Him.
5• The Battle truly is not ours but The Lord's
5• Halleluyah!
KEY POINT:
Praise God always, even when you are feeling down.
BIBLE IN ONE YEAR: Acts 4-6
AUTHOR: PASTOR E. A. ADEBOYE
HYMN: IMMORTAL, INVISIBLE, GOD ONLY WISE.
Immortal, invisible, God only wise,
In light inaccessible hid from our eyes,
Most blessed, most glorious, the Ancient of Days,
Almighty, victorious, Thy great name we praise.
2•Unresting, unhasting, and silent as light,
Nor wanting, nor wasting, Thou rulest in might;
Thy justice like mountains high soaring above
Thy clouds which are fountains of goodness and love.
3•To all life Thou givest, to both great and small;
In all life Thou livest, the true life of all;
We blossom and flourish as leaves on the tree,
And wither and perish, but nought changeth Thee.
4•Great Father of Glory, pure Father of Light
Thine angels adore Thee, all veiling their sight;
All laud we would render, O help us to see:
'Tis only the splendor of light hideth Thee.
EMMANUEL=GOD WITH US!